Winter Wonderland in Romania
Arrive in winter wonderland and enter a story with the kings and queens of the original Netflix film A Christmas prince!
Hidden in the forest, at the foot of the Bugegi Mountains, Peles Castle is certainly one of the most charming and romantic castles in Europe. Its unique architecture and fairytale location make Peles Castle the most beautiful view in Romania and a truly hidden gem that you should visit once in a lifetime.
Inspired by the style of Bavarian architecture, Peles Castle was built as a royal residence for Charles, the first king of Romania. There are more than 150 pieces in the castle and secret passages, beautifully decorated with wooden furniture, a rich collection of ceramics, paintings, watches, guns, gold and silver coins purchased by the royal family during of the history.
The nearby Pelisor Castle (Little Peles) was built for the royal family and looks more like a hidden in the forest house than a castle. Smaller than Peles Castle, but no less romantic, its interior is also rich in history and art, designed by Queen Mary by gathering Romanian traditions throughout the country.
TOP SIGHTS IN SINAIA
Peles Castle
Sinaia Monastery
Pelisor Castle (Little Peles)
George Enescu memorial house
Mountain hikes and winter sports
HOW TO GET THERE
You can get to Peles Castle in one day from Bucharest (127 km) or Brasov (40 km). It is also easily accessible by car and train. If you opt for the train, you should note some interior tips regarding rail trains in Romania. Besides the national railways, there are private train companies that work better: they are more comfortable, prices are lower and delays are less. For this trip, I arrived by train, with the Softrans private train line. Tickets can be purchased online or directly from the train controller.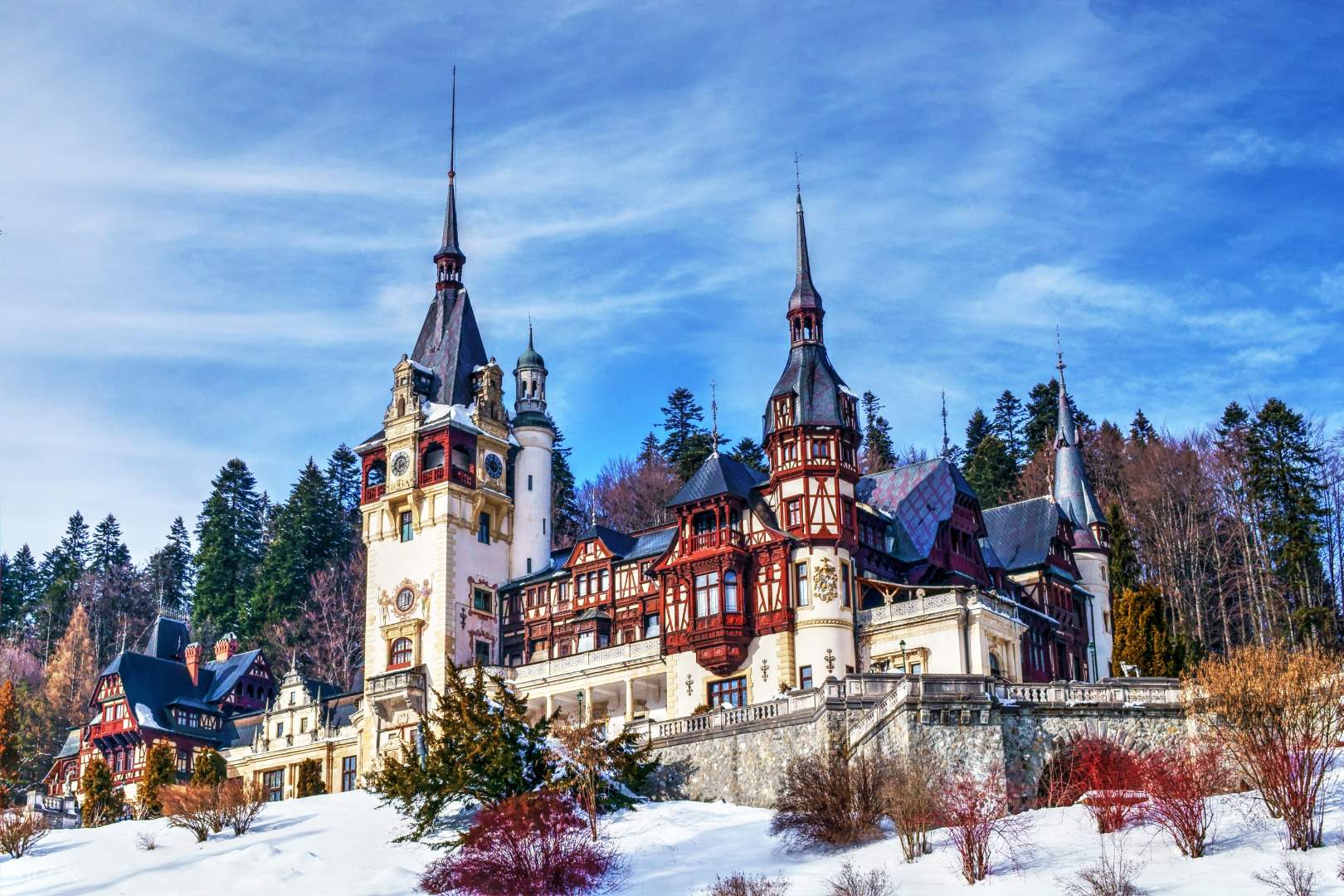 WHERE TO EAT
My favorite restaurant when I visit Sinaia is Taverna Sarbului (address: Calea Codrului 39 E, Sinaia 106100). Here you will find good food in a very traditional place. Some of my favorite traditional Romanian specialties that you can find in almost all local restaurants: smoked pork bean soup served on bread, polenta with cheese and cream, baked potatoes, Romanian donuts with sour cream and berry jam (papanași).
THE SURROUNDINGS
Brasov is a charming medieval town, surrounded by mountains, a good place to spend quality time, with many restaurants, cozy cafes and viewpoints. It is also a good accommodation option if you are visiting Romania, the city itself and the surrounding area being a beautiful area to explore.
Bran Castle (well known as Dracula Castle) located 30 km from Brasov is only accessible by car.
Cantacuzino Castle is located in Busteni just 7 km from Sinaia, also accessible only by car. It is a beautiful castle, surrounded by mountains, offering beautiful views and a pleasant way to spend a few hours.
If you want to know more about travelling kindly visit Travel News. This Travel Diary is best guide for you if you like travelling.
Here is the visa guide: yugo.pk/visa, where you know about visa information for any country.